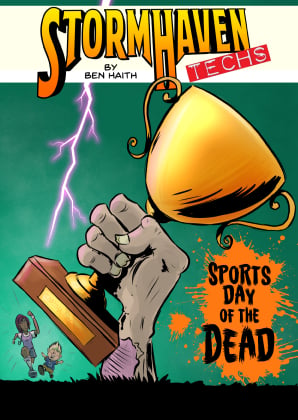 Stormhaven Techs Issue 3 (Single Issue)
"SPORTS DAY OF THE DEAD"
Ah, the end of summer term - for Tabitha and Fingus, magical science technicians at Stormhaven Adventuring Academy, it's a quiet time of stock taking, tidying, and preparing for the next school year.
BUT when an unexpected "request" leads to Tabitha's adventuring past catching up with her, the pair of them find themselves competing for a terrible prize - TABITHA'S ETERNAL SOUL!
28 pages of full colour, all-ages, fun-dead, tug-of-warring fun! It's the technician's biggest adventure yet!
NOTE: This comic is also printed in Stormhaven Techs:Tales from the Prep-Room